Apollo and UAD-2 Compatibility with macOS High Sierra
For complete compatibility details, see this article.
Apple has released macOS 10.13 High Sierra, the newest operating system for Mac. To improve High Sierra security when installing system software (such as UAD drivers), the software must be explicitly allowed to load in the Security & Privacy pane within macOS System Preferences.

How to allow UAD software on High Sierra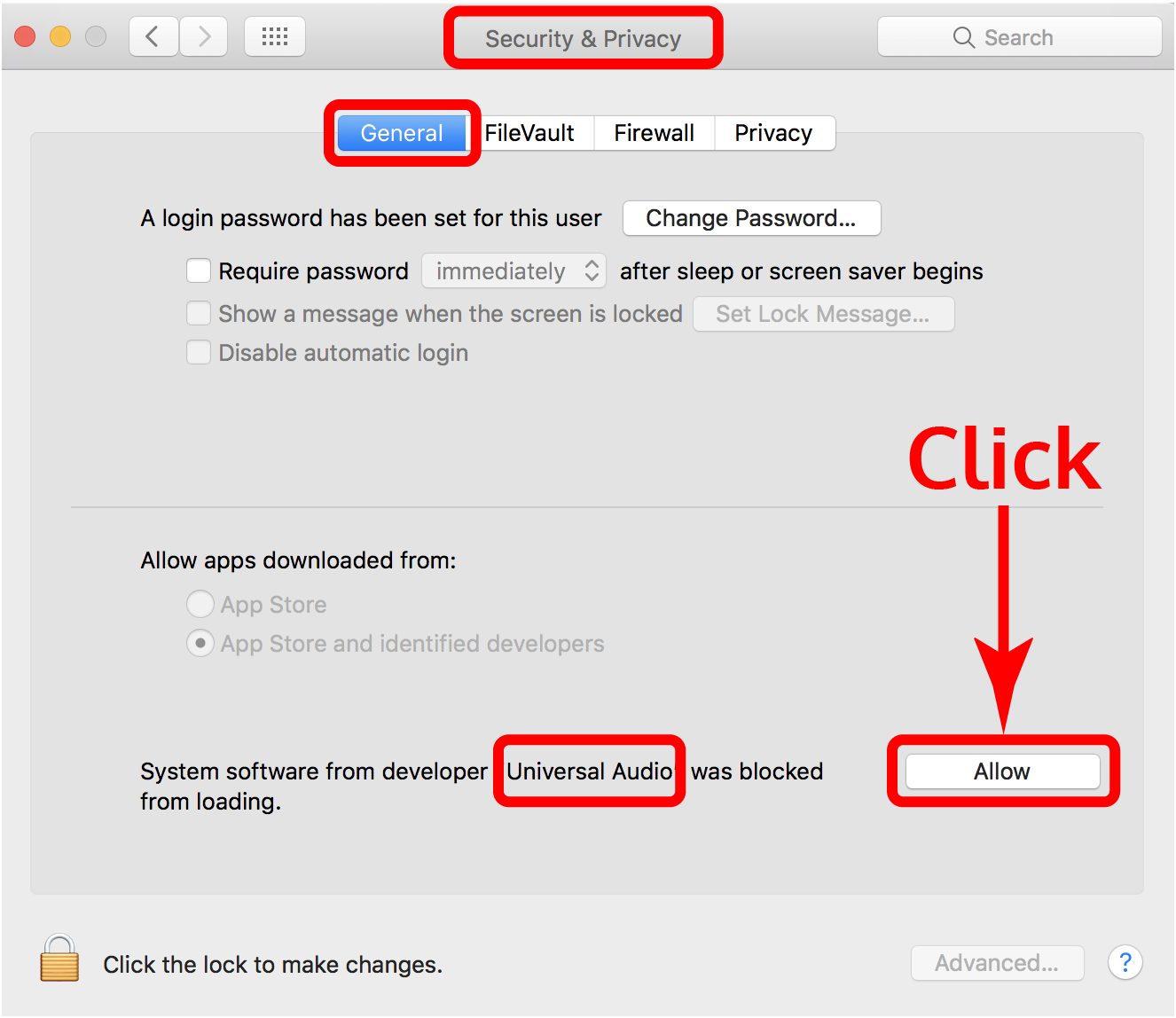 Allowing UAD drivers in System Preferences after UAD installation 


Symptom: After installing UAD software on High Sierra, Apollo and UAD-2 devices are not recognized and the UAD Meter displays "Driver Not Installed Correctly."
Solution: Load the UAD drivers by clicking "Allow" in High Sierra's System Preferences>Security & Privacy>General pane within 30 minutes of UAD installation.
Download and install the

latest UAD software

.

After restarting, open

System Preferences

 (from Apple menu at top left corner of display).

Click

Security & Privacy

in the System Preferences window.

Click

Allow (at lower right of General pane) within 30 minutes of UAD installation. The UAD drivers load, UAD devices are recognized, and the system is ready for use.


Notes
The

Allow

button is present for 30 minutes after UAD software installation. To show the button again if 30 minutes have passed, restart the computer.

If the Allow button is not present after restarting, reinstall the UAD software.
If software from multiple developers has been installed, the System & Privacy pane may display a more generic message that reads "some system software was blocked from loading." In this case, after clicking "Allow" a list will appear and the software from each developer can be allowed individually.  

The symptom occurs only when installing UAD software on High Sierra. The symptom does

not

occur if UAD software was installed on 10.12 Sierra (or lower) and the system is subsequently upgraded to High Sierra.

Some audio software companies may advise users not to install High Sierra due to incompatibilities with their software. Universal Audio recommends inquiring with companies that make the software you use about compatibility before installing the new OS.