From November 1st through December 31st, 2023, get a FREE Sphere LX or DLX Modeling Microphone worth up to $1,499 with the purchase of any Apollo rackmount interface from an authorized UA retailer.

Which Apollo Rack interfaces are eligible for this promotion?
Purchase a new qualifying UA rackmount Product from an authorized UA retailer between November 1st and December 31st, 2023 to receive a FREE UA Sphere LX or DLX microphone, as per the chart below:
Buy This 
Get This
              Value

Apollo x4 HE

Apollo x6

Apollo x8
Apollo x8p

Sphere LX Modeling Microphone System
$999/€1099/£945

Apollo x6 HE

Apollo x8 HE

Apollo x8p HE

Apollo x16 HE

Sphere DLX Modeling Microphone System
$1,499/€1649/£1420
Where can I find a retailer to buy an Apollo Interface?
Use our dealer locator to find an online dealer or a store near you.


I just bought an Apollo Rack interface listed above – how will I get my free microphone?
The authorized UA retailer you purchased the device from will provide you with the microphone either at point-of-sale or via an online rebate form, depending on your country.
United States, Canada, Japan, UK, and EU Countries*: Customers will receive their free Sphere LX or DLX  directly from UA, or in the case of Japan and Canada, from a distributor, via online rebate form after registering a device.
All Other Countries: Customers will receive their free Sphere LX or DLX from retailer at time of purchase.
This promo is "while supplies last" – make sure to inquire with the authorized UA retailer you are purchasing your device from beforehand!
This promotional bundle cannot be split apart and sold separately.
*EU Countries Include: Austria, Belgium, Bulgaria, Croatia, Cyprus, Czech Republic,, Denmark, Estonia, Finland, France, Germany, Greece, Hungary, Ireland, Italy, Latvia, Lithuania, Luxembourg, Malta, Netherlands, Norway, Poland, Portugal, Romania, Slovakia, Slovenia, Sweden, Spain and Switzerland
What does the registration process look like and how do I get the microphone?
The Apollo registration steps are the same as in the articles linked below, depending on your operating system:
During the registration process, the following panel will appear and ask you to personalize your new Apollo: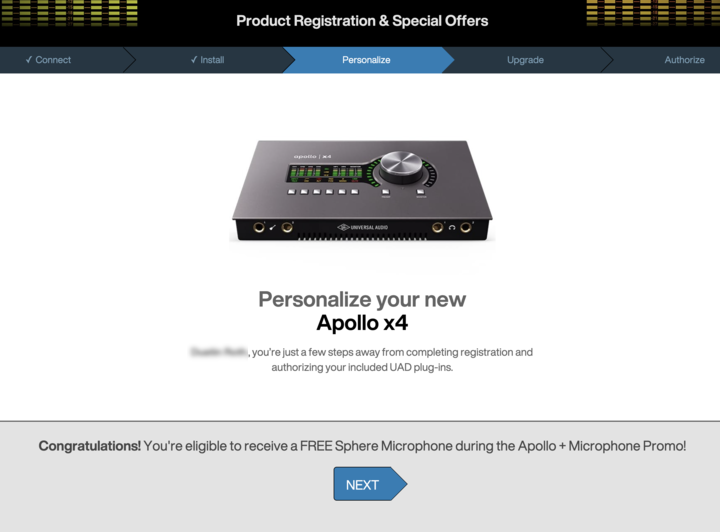 Continue to go through the steps and a form will request your name and address information.
Note: This process will only appear if you are registering a brand new Apollo, purchased from an authorized UA retailer.
Help! I registered my Apollo but I mistakenly skipped the form I needed to fill out. What do I do?
If you are eligible and haven't filled the form, you can access it on this page.