In this article
Thank you for choosing a UA Sphere modeling microphone system as part of your musical creative process. Developing the Sphere system has been a labor of love for those of us at Universal Audio, and we hope you enjoy using it as much as we have creating it.
Quick steps to get started
To get started with your Sphere system, you'll follow these steps:
Download and install the Sphere plug-ins
Connect your Sphere mic to your mic preamps
Create a stereo DAW track and insert the Sphere plug-in, or insert the plug-in on a stereo linked track in Apollo Console
Adjust mic models and settings, then monitor and record your source
You can skip to Installing and Configuring Sphere to get started.
For additional support articles, go here.
What is Sphere?
The Sphere modeling microphone system consists of a precision large diaphragm condenser mic and a Sphere plug-in, letting you accurately emulate the most coveted vintage and modern microphones ever made.
The Sphere mic has two capsules and output channels, capturing directional and distance information that is otherwise lost with a conventional single-channel mic. This additional information is used to reconstruct how different mics respond to the soundfield.
The Sphere plug-ins are the software component of the modeling system. Sphere plug-ins are available in all common native and DSP formats, with the DSP versions allowing you to monitor and/or record the Sphere system in realtime, without discernible latency.
When the mic and plug-in are combined, the Sphere system offers many advanced features that place it well beyond the capabilities of any other mic.
Sphere microphones
Three different physical hardware microphones are available for the system: UA Sphere DLX, UA Sphere LX, and Townsend Labs L22. All Sphere mics are designed and constructed with the highest standards of precision and quality.
Each Sphere mic features dual capsules that output audio signals on two separate channels. Each Sphere mic channel requires a dedicated balanced mic preamp and 48V phantom power to operate properly. All Sphere mics include a custom breakout cable that delivers the two channels to twin XLR connectors.
The differences between the three Sphere mics are listed in the table below.
Mic

Cable and Accessories

Pad

UA Sphere DLX

- 25-foot cable with dual XLR outputs
- Mic stand mount
- Shockmount
- Soft carry case

-20 dB

UA Sphere LX

- 10-foot cable with dual XLR outputs
- Mic stand mount
- Soft carry case

N/A

Townsend Labs L22 (discontinued)

- 25-foot cable with dual XLR outputs
- Shockmount
- Flight case
- Plush dust cover

-10 dB

-20 dB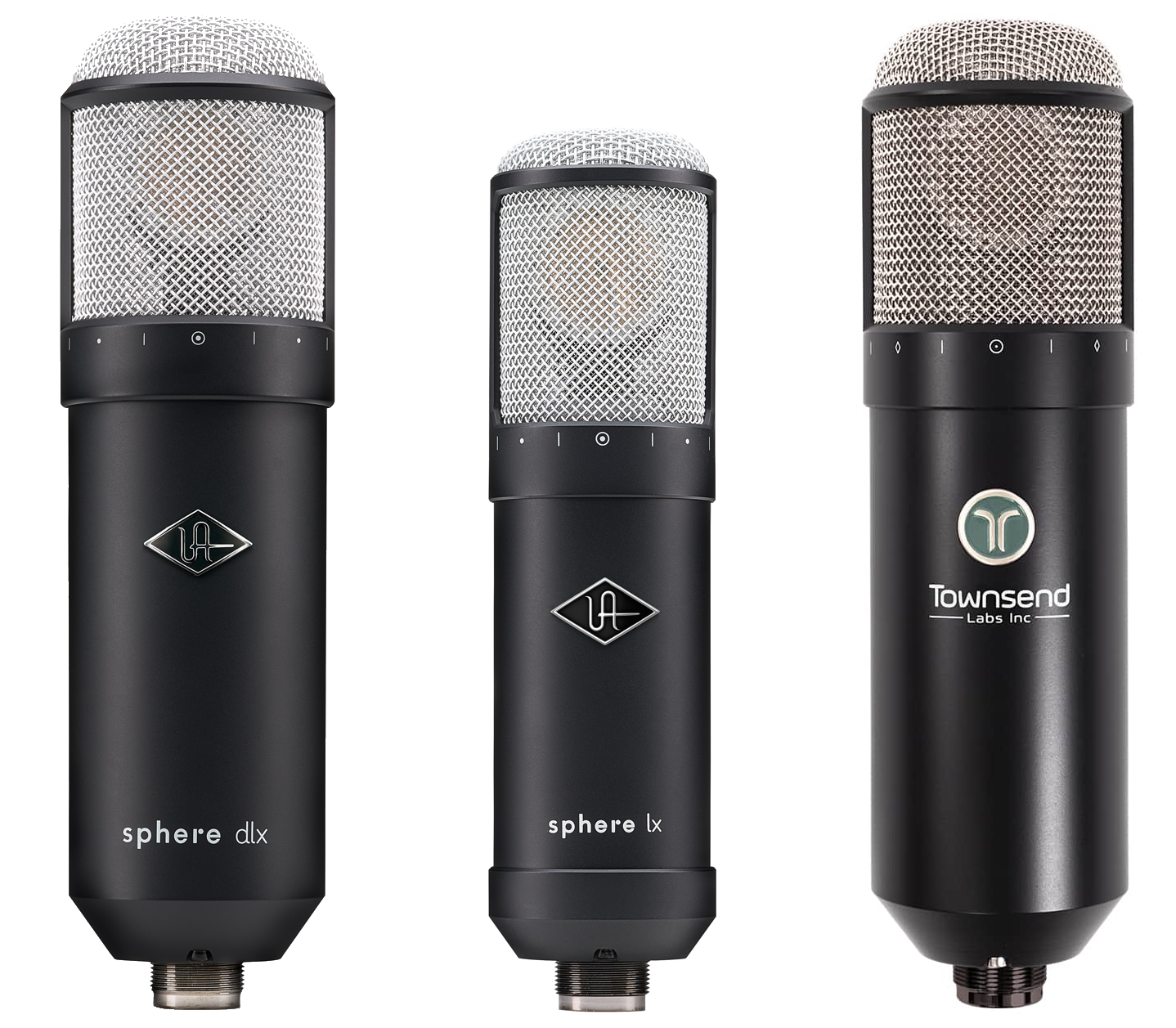 Note: The symbols shown on the side of the physical mic, represented below, are also different between the LX (top) and DLX (bottom)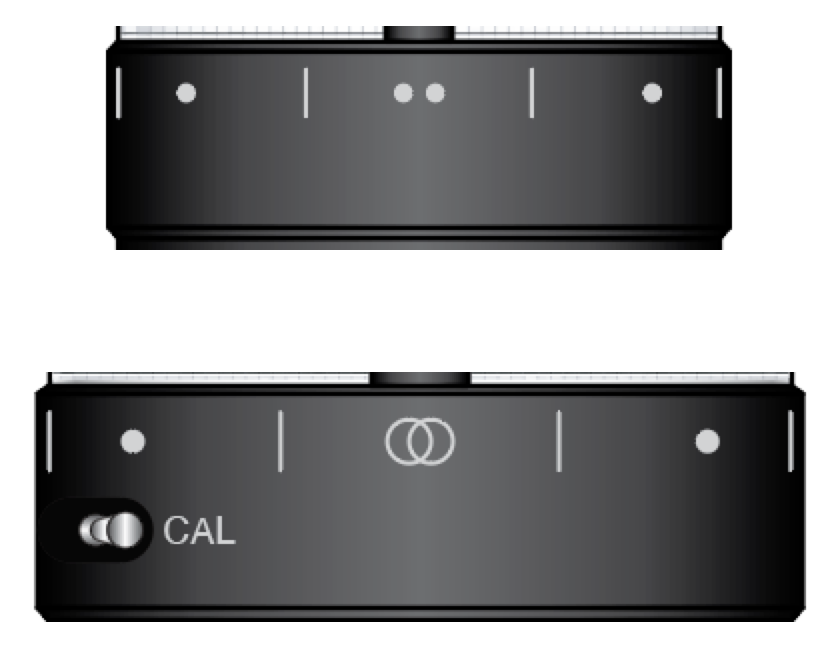 Sphere plug-ins
The Sphere plug-ins are an essential component of the Sphere modeling microphone system. The plug-ins perform all signal processing in the Sphere system during monitoring and recording, or when processing tracks that were previously recorded with a Sphere mic.
The Sphere Mic Collection plug-in is included with all Sphere mics and is available for native CPU processing (all computers). Accelerated DSP processing is available via UAD plug-ins (Universal Audio Apollo/UAD and Avid HDX hardware only).
The Ocean Way Mic Collection and Putnam Mic Collection plug-ins are optional purchases for DSP hardware only; native versions are unavailable with these titles. With Sphere LX, when you purchase either of these plug-ins, you also get the additional 18 models from the Sphere Mic Collection plug-in that were not originally included.
Standard Sphere plug-ins are designed for monophonic output with all Sphere mics (DLX, LX, L22). For stereo output with DLX and L22, all Sphere plug-in titles include a separate "180" version of the plug-in.
Note: Sphere stereo 180 plug-ins are available for DLX and L22 only.
Plug-In

Native Formats

UAD Formats

Number of Models

Features

Sphere Mic Collection

VST2, VST3, AAX, Audio Units

VST2, VST3, AAX, Audio Units

- 38 (DLX, L22)
- 20 (LX)

- Wide variety of modern and vintage mics
- For all Sphere mics
- Included with purchase
- Native and DSP formats

Ocean Way Mic Collection

N/A

VST2, VST3, AAX, Audio Units

- 12 (DLX, LX, L22)
- 38 from Sphere Mic Collection (DLX, LX, L22)

- "Best of the best" vintage mics from Allen Sides' locker
- For all Sphere mics
- Optional purchase
- Apollo/UAD only

Putnam Mic Collection

N/A

VST2, VST3, AAX, Audio Units

- Nine (DLX, LX, L22)
- 38 from Sphere Mic Collection (DLX, LX, L22)

- Vintage mics from Bill Putnam Sr.'s renowned collection
- For all Sphere mics
- Optional purchase
- Apollo/UAD only
Important Sphere concepts and requirements
The following points will help you get the most from your Sphere modeling microphone system.
All Sphere mics have two capsules and dual output channels on balanced 3-pin male XLR connectors. When connecting the mic, always use the custom breakout cable included with the system.
Each output channel requires its own balanced mic preamp input, with 48V phantom power, for mic modeling and other features to function properly.
Both mic preamp channels must be set to the same gain, so we recommend using digitally controlled or stepped-gain preamps, such as those in Universal Audio Apollo interfaces.
You can connect the Sphere mic to external mic preamps that are then connected to your audio interface, or directly to the built-in mic preamps in your audio interface.
All mic modeling and other advanced features are processed in the Sphere plug-ins (included), not within the physical mic.
Sphere plug-ins have stereo input and mono output. The Sphere 180 plug-ins (DLX and L22 only) have stereo input and output.
If you have a Sphere LX and purchase the UAD Ocean Way Mic Collection or UAD Putnam Mic Collection plug-in, you get the additional 18 mic models that are included in the Sphere Mic Collection with Sphere DLX and L22.
Sphere system features
UA Sphere modeling microphone systems extend well beyond pure mic modeling. Many of these capabilities have never been possible with previous mic modeling technologies.
Multi-dimensional modeling – Accurately emulates a wide range of mics, including complex 3D polar response, transient response, and proximity effect.
Re-mic recorded tracks – Select mic type, polar pattern, and other microphone settings, even after tracking.
Adjustable proximity effect – Leave the mic in place while adjusting the bass response of near-field proximity effect.
Simultaneous mic models – Mix multiple virtual, phase coherent mic models from the same physical mic during or after tracking.
Stereo – Make coincident stereo recordings with one Sphere mic, and even use different mic models on the left and right channels (DLX and L22 only).
Off-axis correction – Create more accurate polar patterns that can be used to reduce bleed, room coloration, and feedback even after tracking.
Axis shift – Virtually rotate the axis of the mic to obtain a more off-axis sound even after tracking.
Realtime UAD processing – With LUNA Recording System or Apollo's Console, the UAD Sphere plug-ins achieve extremely low latency processing (~1.6 ms round trip at 96 kHz) with deterministic performance.
AAX DSP processing – Sphere AAX DSP plug-ins on Pro Tools HDX systems also achieve high-performance, low-latency monitoring.
All common plug-in formats – UAD, AAX DSP, AAX Native, VST2, VST3 (native and UAD v11 only), and Audio Units (macOS only).
Flat frequency response – Create a virtual mic with an extremely flat response over the entire audible spectrum (20 Hz - 20 kHz), and even compensate for the proximity effect.
Polar meter – A visually informative Polar Pattern Meter dynam­ically displays the direction and level of sound arriving at the mic.
Low noise – Sphere microphones have a self-noise level which is well below most vintage microphones and compares favorably with the best modern microphones.
High SPL handling –

Sphere mics have rugged construction and can handle more than 140 dB SPL before clipping. They are not damaged by high SPLs or air blasts as with some vintage mics.