The LUNA application, LUNA Extensions, and UAD Instrument licenses are tied to your UA account and are arranged within your account by "system" in the same manner as UAD and Apollo devices Any LUNA license registered to a single system can be used on up to two iLok USB (2nd or 3rd Generation) keys or iLok Cloud Sessions at a time. This allows you to have the option to work iLok-free, and gives the freedom to work "on the go," wherever you have an internet connection and your Thunderbolt UA audio interface. Or, if you prefer, continue using your iLok Smart Key as before.
Authorizing Using iLok Cloud
Creating a new iLok account or linking to an existing account activates the license(s) onto an iLok Cloud Session. To activate to a iLok Cloud Session, use either of the two methods below when LUNA initially opens for the first time:
LINK EXISTING - When this option is selected, enter your existing iLok username or email to link your LUNA licenses to your existing iLok account. If you do not have a iLok account already, please see the next method.
CREATE - When CREATE is selected, a new iLok account will be created based on the UA account email address used to log into LUNA. The user will not see the account being created, as this is all handled in the background.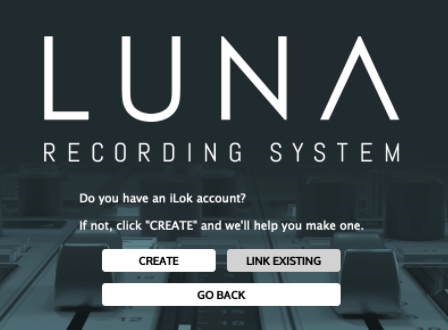 LUNA's iLok setup screen
Authorizing to iLok USB (2nd or 3rd Generation)
Authorizing to an iLok USB allows users to store their LUNA licenses on a iLok USB, and use their LUNA licenses offline. If you wish to move your license(s) onto an iLok USB key, please follow instructions below:
1. Launch iLok License Manager and sign in using your iLok account credentials.
Note: iLok License Manager was automatically installed to your Mac's Applications folder when LUNA was installed.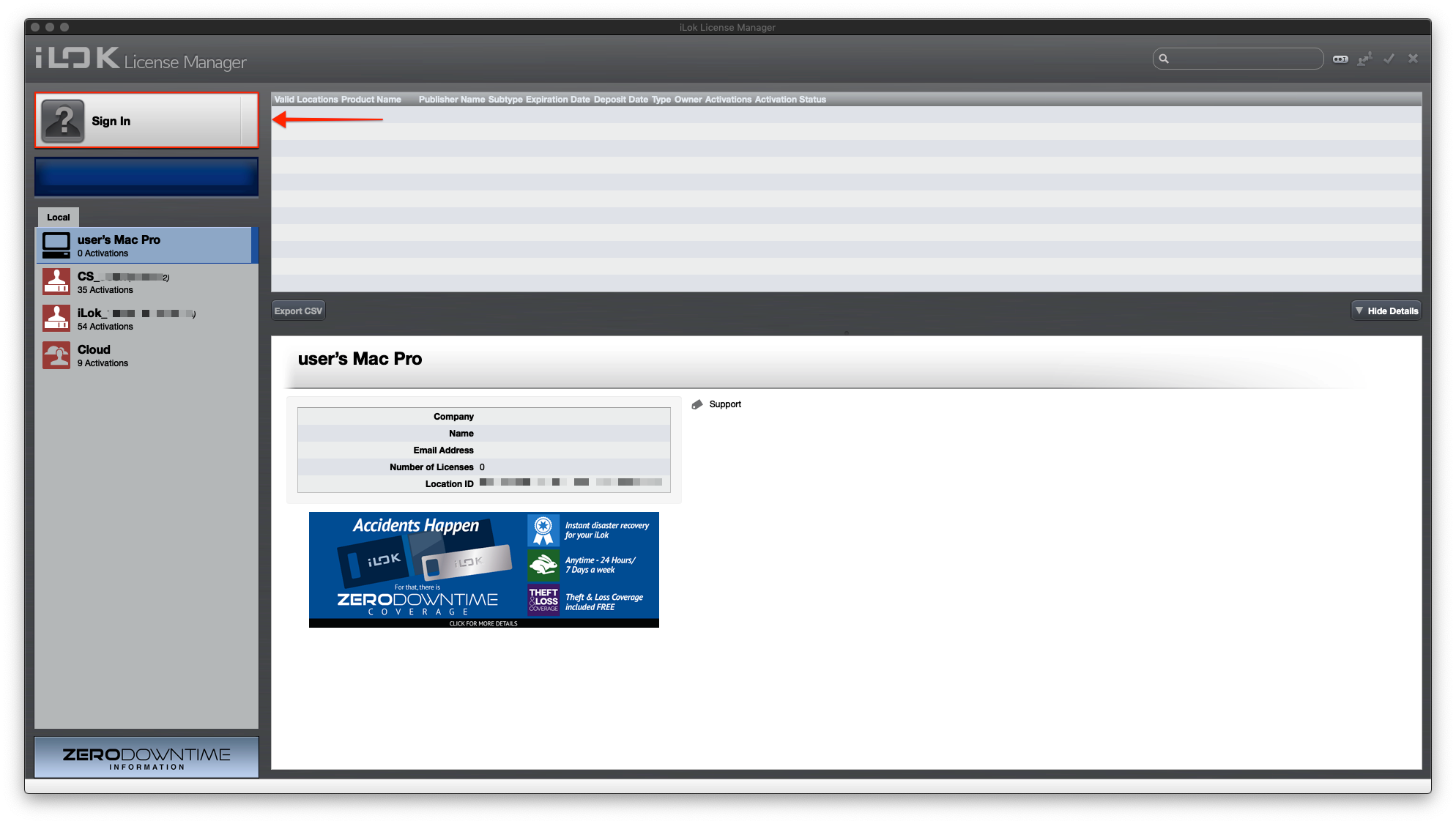 iLok License Manager window
2. Click File in the menu bar, and select Close Your Cloud Session.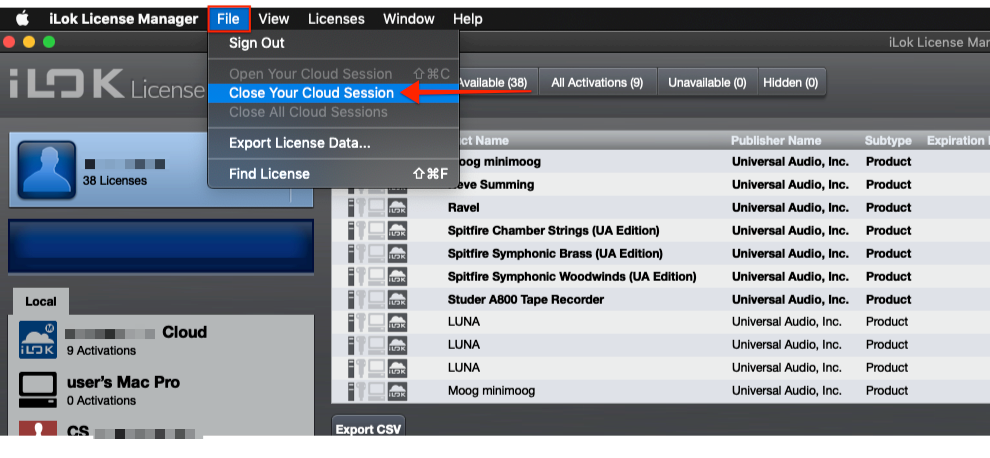 iLok License Manager File Menu
3. Connect your physical iLok USB to the computer.
4. From the Available tab, select Cloud account in the left column, then drag the license to your iLok USB.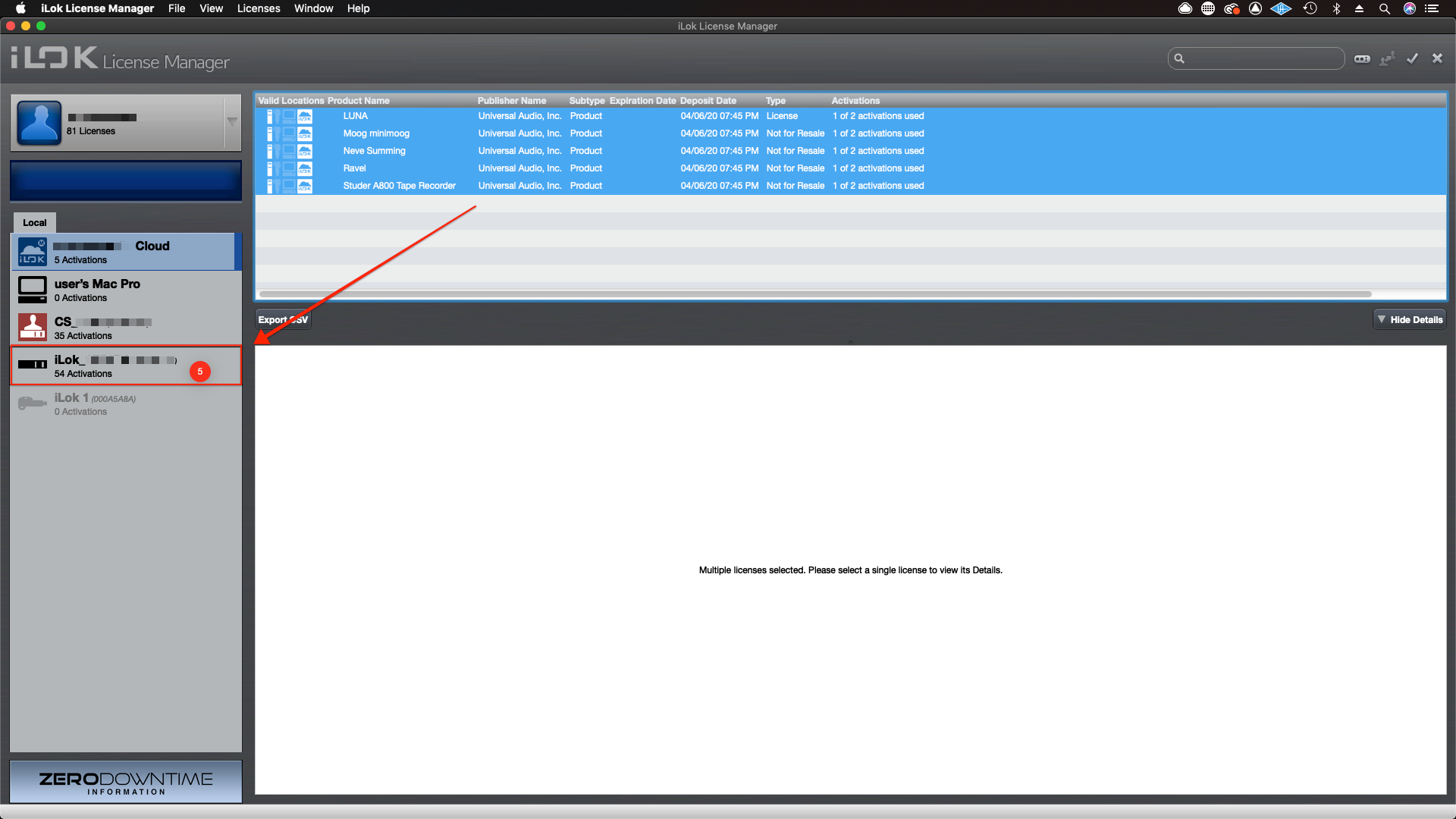 Moving license(s) to iLok USB
5. The iLok confirmation dialog appears. Click OK to continue, and the license is moved to the iLok USB hardware.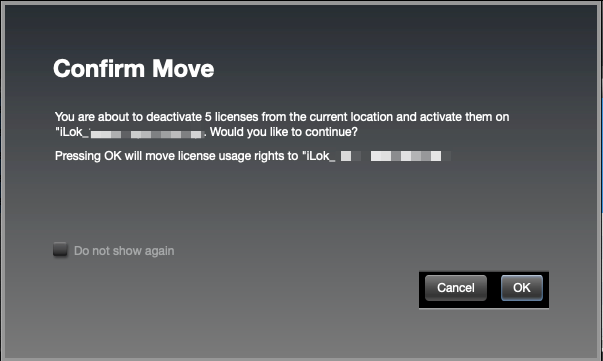 iLok confirmation message