Note: If using a different version of macOS, see the Latest OS Compatibility article.
With UAD-2 and Apollo hardware, UAD software v9.4 through v9.14.5

is tested and compatible with macOS High Sierra.

LUNA Recording System is not compatible with macOS High Sierra.

Spark and UADx plug-ins are incompatible with macOS High Sierra.

See

this article

for details.
UAD v9.4 through UAD v9.14.5 are compatible with macOS High Sierra. Older versions are available in the UAD software archives. To use UAD v9.15 or higher, update to a newer version of macOS.
With High Sierra, OS system security requires UAD software to be manually allowed for proper operation. Configuration steps that are unique to High Sierra are detailed in this article.
Allow UAD Software
After installing UAD software, the software must be manually allowed in System Preferences>Security & Privacy within 30 minutes of installation. If this step is not done, UAD devices are not recognized and the UAD Meter displays "Driver Not Installed Correctly" in red text.
How to manually allow UAD software
Download and install the

latest UAD software

.

After restarting, open System Preferences (from Apple Menu at top left corner of display).

Click Security & Privacy in the System Preferences window.

Click Allow (at lower right of General pane) within 30 minutes of UAD installation.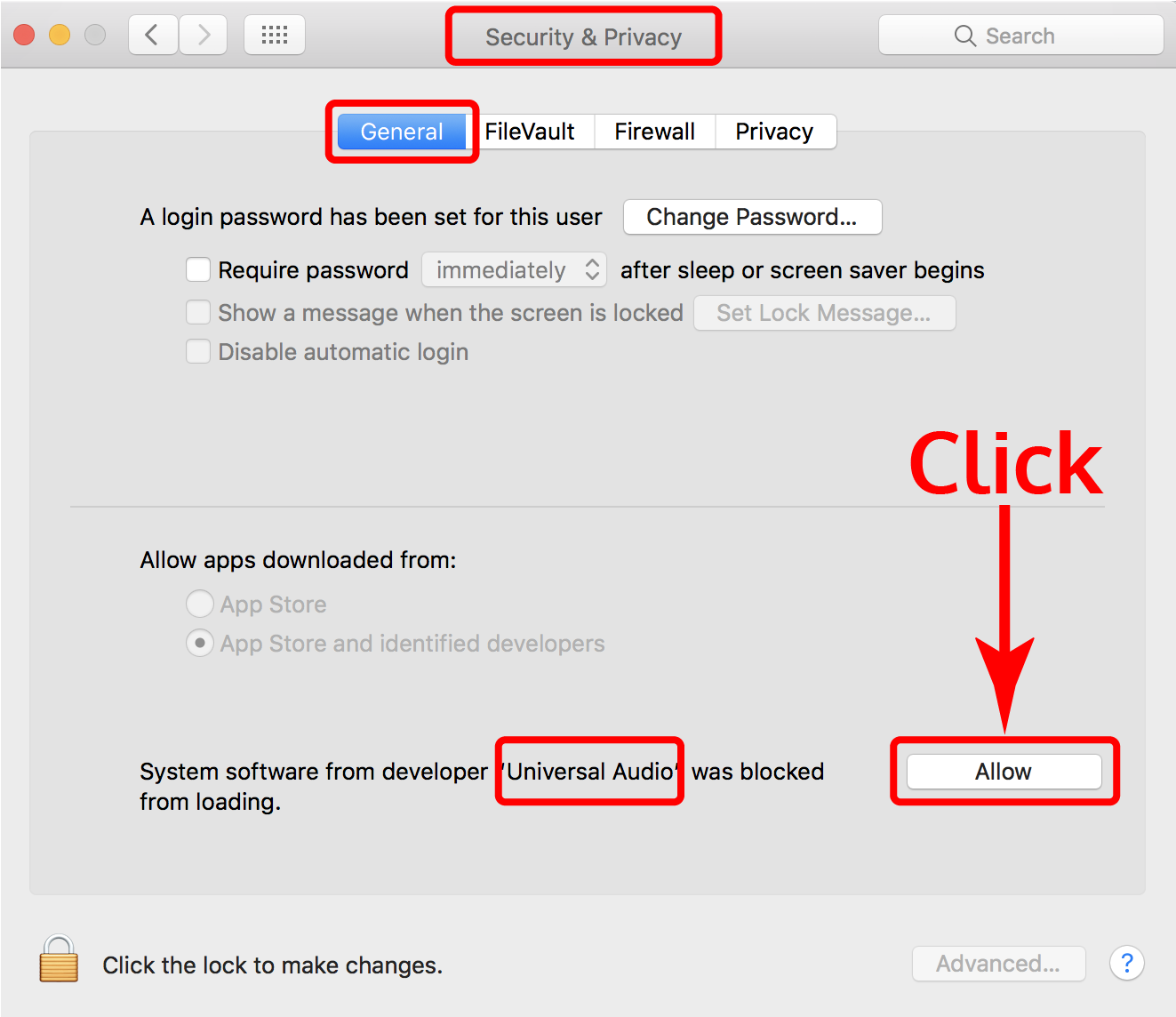 Allowing UAD software in System Preferences after UAD installation restart



UAD Meter if UAD software is not allowed


Allow UAD software notes
The Allow button is present for 30 minutes after UAD software installation. To show the button again if 30 minutes have passed, restart the computer. If the Allow button is not present after restarting, reinstall the UAD software.


If software from multiple developers has been installed, the System & Privacy pane may display a more generic message that reads "some system software was blocked from loading." In this case, after clicking Allow a list will appear and the software from each developer can be allowed individually.