Although EuCon is not supported in LUNA at this time, there is an MCU Emulation mode for EuCon users that allows them to use their EuCon controllers with LUNA.
For optimum compatibility with LUNA, confirm your control surface is updated with the latest software and firmware from the manufacturer.
Note: This article contains device-specific setup instructions, mapping diagrams, and known issues only. To learn how to operate MCU control surfaces in LUNA, click here.
| | |
| --- | --- |
| Avid Control | |
Avid Control Installation
Please follow the steps below:
Install

"Avid Control" app

on your mobile/tablet.

On your system running LUNA, open a web browser and log in to your

Avid account

.

Click "View My Products" Button.
Click "Avid Control and EuControl".
Click "VIEW Software Download Links & Product Details".
Download "EUCON Workstation Unified Install".
Open the dmg and run the installer. In the Custom Install page, only check "S1 / S3 / Dock / Control / Artist Series".

Click Continue and complete the installation.

Reboot the computer.
EuCon Setup
Open System Preferences. Click the EUCON preference pane button in the bottom preferences row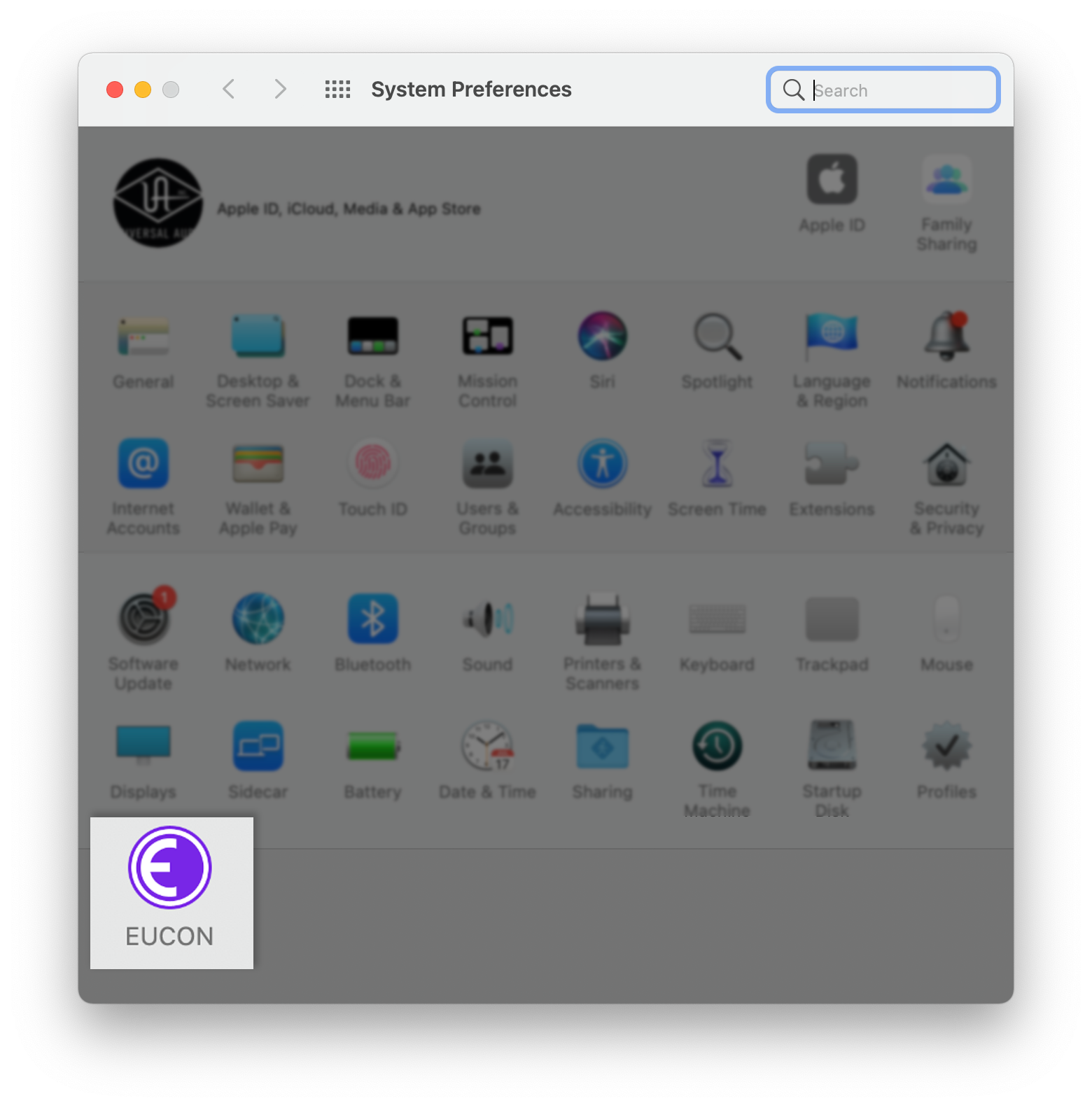 Open a new Finder window on your Mac and locate the version of LUNA you would like to control with your EUCON based system. Drag the LUNA.app into the EUCON Preferences window.

Quit System Preferences – you may be prompted with a dialog to restart Eucon apps. Click OK or close it.

Reboot the computer.

After reboot, open EuControl.app from your Applications folder.

Show the EuControl Settings Window by pressing Command+1 or Clicking Window > EuControl Settings.

Open Avid Control.app on your mobile/tablet and select it in the All Surfaces column.

Click the Add Button to add Avid Control to My Surfaces.
LUNA Setup
Launch LUNA and navigate to Settings.

Click Controllers.

Check ONLY "Euphonix MIDI Euphonix Port 1" for your INPUT and OUTPUT device.
Known Issues
Only basic transport, counter, track fader, pan, record, mute, and solo are supported by EUCON's MCU mode

Changing automation modes is not supported by EUCON's MCU mode

There is no audio meter functionality, MCU function keys, utility functions, navigation, scrolling, or any other additional mappings for EUCON MCU Mode